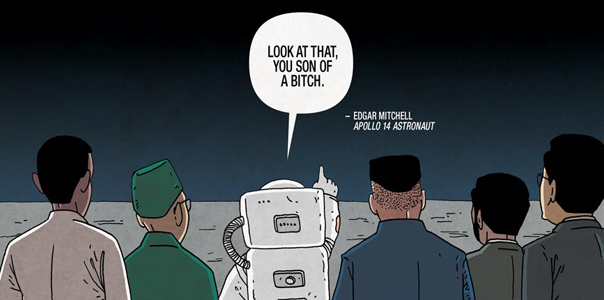 Quotes. Cartoons. I wasn't a fan. Then Zen Pencils came along. Since founding Zen Pencils in 2012, Melbourne-based cartoonist Gavin Aung Than has been busy blending some of our greatest thinkers and doers' minds with the tips of his pencils. With 206 pieces—and counting—to his name, Than has casually amassed almost 250,000 Facebook followers along the way. I've been an enthusiastic observer for a few years now, so as much to pay homage as to say thanks, here are my 'climate change' top Ten from Zen Part I: 'Science and the cosmic perspective'. For the record, I left my favourite quote—Edgar Mitchell's—for last.
1. Carl Sagan's 'A Pale Blue Dot'
On Valentines Day 1990, at the request of astronomer Carl Sagan, Voyager 1—the farthest man-made object from earth—swivelled its camera and captured an image known simply as the 'Pale Blue Dot'. The 'cosmic perspective' may never arm itself with a champion of Sagan's calibre again, but this champion's words (and voice) will live on forever.

2. Phil Plait's 'Welcome to Science'
Plait's quote puts science in perspective and illustrates what can happen when you reveal the 'magic of reality' to a kid. For Plait, one event defined his life. When he was 5 years old, his father brought home a telescope… "He aimed it at Saturn that night. One look, and that was it. I was hooked."

3. Isaac Newton's 'On the Shoulders of Giants'
By the age of 30, Isaac Newton had already written Principia Mathematica, the most influential book in the history of science, and had changed the world's understanding of itself forever. By his own admission though, he wasn't the one that deserved congratulating.

4. Neil Armstrong's 'A Giant Among Men'
All things going Space X and Elon Musk's way, if you're aged under 50 and of reasonable health, you'll get to witness live what all those lucky enough got to hear on 20 July 1969. Something along the lines of "That's one small step for a man…". This time though, it'll be another planet. I wonder what Earth will look like from Mars?

5. Edgar Mitchell's A Global Consciousness 
Why has this not been edited since January 20, 2017? It's still my favourite though.

If you've got this far, Sagan's quote—in video form—from Cosmos: A Spacetime Odyssey is a mellifluous finale.